Written by Marc Courtenay
Tuesday, 24 July 2012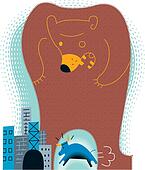 "Investors need to prepare for an upcoming stock market crash that will be 'worse than 2008.'"
That's according to a well-respected author and investor, making a recent appearance on Fox Business.The part of the interview that rocked my world wasn't the perspective of noted economist Peter Schiff, who has been wrong before.
Let me quote from this excellent article-video interview from Newsmaxworld.com, and keep in mind that the second economist who they speak of has an excellent contemporary track record is seeing the economic disasters as they are approaching.
"A noted economist agrees with Schiff that a much worse stock market crash is coming. And unlike Schiff, he has given very specific details about just how bad it will get.
"The data is clear, 50% unemployment, a 90% stock market drop, and 100% annual inflation . . . starting in 2012."
"That catastrophic outlook comes from Robert Wiedemer, economist and author of The New York Times best-seller Aftershock. Before you dismiss Wiedemer's claims, consider this: In 2006 he accurately predicted the collapse of the U.S. housing market, equity markets, and consumer spending that almost sank the United States.
Editor's Note: See the disturbing interview with Wiedemer.
"In a recent interview, Wiedemer unapologetically displayed shocking charts backing up his allegations, and then ended his argument with, "You see, the medicine will become the poison."
"The interview has become a wake-up call for those unprepared (or unwilling) to acknowledge an ugly truth: The country's financial "rescue" devised in Washington has failed miserably".
Let me make myself abundantly clear. We here at ChecktheMarkets.com are not saying Wiedemer and his book are correct. We are bringing this to your attention because the current worldwide economic malaise hasn't been fixed and the profligate financial mechanisms that the central banks of the world have been using having dangerous flaws.
Massive Quantitative Easing, as described in another interview worth reading (click here), will be more "massive" then we first thought and as I've been warning, it will be a global, orchestrated effort to accomplish some objectives that aren't clear or have not yet been honestly explained to us.
The interview with Mr.Wiedemer has apparently turned on the internet censor machines. "The interview offers realistic, step-by-step solutions that the average hard-working American can easily follow" Newsmax World wrote.
"The overwhelming amount of feedback to publicize the interview, initially screened for a private audience, came with consequences as various online networks repeatedly shut it down and affiliates refused to house the content."
So, hoping nothing bad will happen to our site, I wanted to do my best to offer it to our readers, mainly for our awareness and our entertainment. Don't watch it or listen to it before you're going to sleep or about to eat a meal.
Few of us can afford not to consider worst case scenarios in a world where catastrophic financial events occur (Black Swans) that we are told afterward were "completely unexpected!".  That's the kind of bull that led to the acclaimed documentary "Inside Job" which barely scratches the surface.
The author of "Aftershock: Protect Yourself and Profit in the Next Global Financial Meltdown" should be taken seriously, and although we might all be interested in playing the Ostrich role with our heads in the sand, the probabilities he suggests are realistic.
"People were sitting up and taking notice, and they begged us to make the interview public so they could easily share it," said Newsmax Financial Publisher Aaron DeHoog, "but unfortunately, it kept getting pulled."
"Our real concern," DeHoog added, "is what if only half of Wiedemer's predictions come true?
"That's a scary thought for sure. But we want the average American to be prepared, and that is why we will continue to push this video to as many outlets as we can. We want the word to spread."